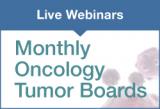 Trimodal therapy approaches for localized rectal cancer continue to evolve as new data helps define how to best improve outcomes while reducing adverse effects, with total neoadjuvant therapy among the approaches of recent interest. Clinicians can benefit from education on relevant clinical trial results related to trimodal therapy for localized rectal cancer and guidance on how these data may be best applied to clinical practice.
Credits
AAPA Category 1 CME credit
ACPE contact hours
AMA PRA Category 1 Credit™
ANCC contact hours
CCM clock hours
Participation
Clinicians need to be knowledgeable about newer tools that can improve risk stratification, and they need to understand when these tools have the possibility to change management so that unnecessary testing can be avoided. In addition, clinicians should be educated about the heterogeneity among risk groups, so that nuanced discussions with patients can inform decisions surrounding active surveillance.
Credits
AAPA Category 1 CME credit
ACPE contact hours
AMA PRA Category 1 Credit™
ANCC contact hours
CCM clock hours
Participation