Clinicians who treat pediatric BL and DLBCL need to be informed about the recommendations in the new NCCN Guidelines for Pediatric Aggressive Mature B-Cell Lymphomas so that they can appropriately stratify patients into risk groups, plan initial therapy, and manage common supportive care issues. They also need information on recommended surveillance protocols and treatment of relapsed/refractory disease.
Credits
AAPA Category 1 CME credit
ACPE contact hours
AMA PRA Category 1 Credit™
ANCC contact hours
Participation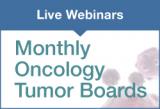 A multidisciplinary team approach involving hematology/oncology, dermatology, and radiation oncology is optimal for the management of patients with MF and SS, particularly those with advanced disease. Informing clinicians about the recommendations outlined in the NCCN Guidelines for Primary Cutaneous Lymphomas for the diagnosis and treatment of MF and SS can help them to develop an individualized treatment plan to improve quality of life and clinical outcomes.
Credits
AAPA Category 1 CME credit
ACPE contact hours
AMA PRA Category 1 Credit™
ANCC contact hours
CCM clock hours
Participation
Event date
April 27, 2021
Pages