Identifying individuals with hereditary syndromes allows for improved cancer surveillance, risk reduction, and optimized management. Establishing criteria for assessment allows for the identification of individuals who are carriers of pathogenic genetic variants.
Format
Monograph/Journal Supplement
Credits
AAPA Category 1 CME credit
ACPE contact hours
AMA PRA Category 1 Credit™
ANCC contact hours
Participation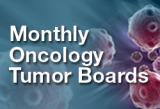 Personalizing treatment selection for each patient with localized colon cancer or metastatic colorectal cancer (mCRC) can maximize the benefits while minimizing the harms to give each patient the best survival and quality of life possible. Clinicians must be knowledgeable about new trial results, new systemic therapy options, new biomarkers, and other treatment-selection criteria in order to help patients make the best informed decisions possible.
Credits
AAPA Category 1 CME credit
ACPE contact hours
AMA PRA Category 1 Credit™
ANCC contact hours
Participation