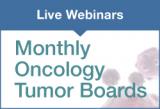 Staying up-to-date with the available treatment options is important for health care professionals to integrate new evidence-based data into their clinical practice, and being familiar with the toxicity profile is important to optimize patient outcomes.
Credits
AAPA Category 1 CME credit
ACPE contact hours
AMA PRA Category 1 Credit™
ANCC contact hours
CCM clock hours
Participation
Triple-negative breast cancer continues to be labeled with a poor prognosis secondary to the fact that it tends to be more aggressive and poses a greater risk of recurrence. Because it lacks the receptors that many drugs have been designed to target, the standard of practices remains chemotherapy. Therefore, research has been focused on trying to identify other therapeutic targets for which we already have agents or are currently developing agents.
Credits
AAPA Category 1 CME credit
ACPE contact hours
AMA PRA Category 1 Credit™
ANCC contact hours
Participation