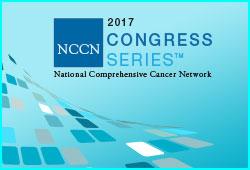 Recorded Presentations from the NCCN 2017 Congress Series™: Biomarkers 101
The science and practice of oncology are rapidly evolving based on more complete knowledge of cancer genomes and the specific genetic events that drive cancer. This knowledge, coupled with advances in medicinal chemistry, has ushered in an era of precision oncology. Use of molecular testing followed by therapies tailored to the particular molecular landscape of a patient's disease can allow appropriate therapies to be given to patients who are most likely to benefit, while avoiding unnecessary treatment of patients who are unlikely to benefit.  Although the availability of new cancer biomarkers is encouraging for diagnosis, prognosis and treatment decision-making, determining the clinical usefulness and selection of the appropriate testing methodologies can represent a daunting challenge for practitioners.  With the field of biomarkers rapidly advancing, clinical research directly affects how oncologists manage patients. Keeping up with advances in biomarker testing allows clinicians to offer state-of-the-art care to their patients with cancer and to better identify patients that are appropriate for biomarker-directed clinical trials.
Target Audience
This educational program is designed to meet the educational needs of oncologists, nurses, pharmacists, and other healthcare professionals who manage patients with cancer.
Disclosure of Relevant Financial Relationships
All faculty and activity planners participating in NCCN continuing education activities are expected to disclose any relevant financial relationships with a commercial interest as defined by the ACCME's, ANCC's, and ACPE's Standards for Commercial Support. All faculty presentations have been reviewed for adherence to the ACCME's Criterion 7: The provider develops activities/educational interventions independent of commercial interests (SCS 1, 2, and 6) by experts on the topics. Full disclosure of faculty relationships will be made prior to the activity.
This program has been approved for AMA PRA Category 1 Credit™ for physicians and will award contact hours for nurses, pharmacists, and other health care professionals.  Complete accreditation information is provided before each individual activity.
Required Hardware/software
To complete this activity, users will need:
A device with an Internet connection and sound playback capability

One of the two latest versions of Google Chrome, Mozilla Firefox, or Safari
Internet Explorer is no longer supported

Adobe Reader or other PDF reader software for certificate viewing/printing